Bosch BarCamp: Führen und Musterbrechen - Leading and Thinking Outside the Box

On Monday and Tuesday (30. & 31.) of January I had the pleasure to attend the Bosch BarCamp at their plant in Salzgitter, Germany, for a very productive exchange with a broad range of people, from leaders in companies to consultants and fellow researchers.
For those who do not know what a BarCamp is: Essentially it is a very informal form of conference, without prepared presentations. On the evening of Monday, we all got together for some networking and then everyone had the opportunity to propose a session for a time slot the next day, followed by a short show of hands to see if enough people were interested in that topic.
So of course I proposed my topic for a early time slot and was pleasantly surprised by the response. In total I visited three other sessions and met some very interesting people.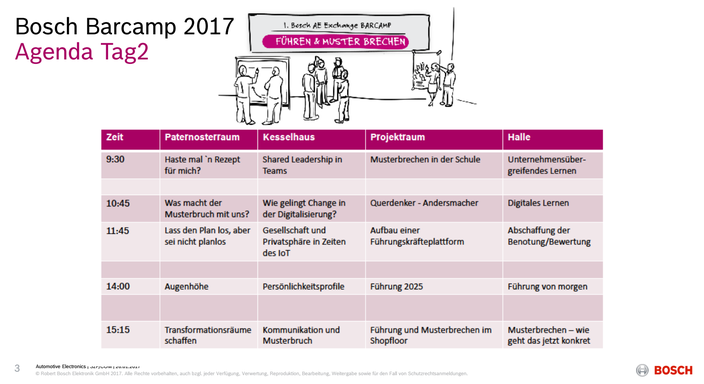 ---
Shared Leadership in Teams
So in my own session I presented what shared leadership is and talked a little about how it impacts team performance. My main question was: From their practical experience, what do we need to create shared leadership?
And I got some very interesting feedback, including but not limited to: Autonomy for employees, trust, shared knowledge, flat hierarchies, no formal leaders at all and many more. Many of these concepts resonate with the current research and theoretical considerations we have done so far, so it is very good that practitioners actually experience these things as well.
One thing did surprise me a litte. It is commonly accepted that shared leadership happens in pretty much all teams, or as Pearce put is one "all leadership is shared leadership, it is just a matter of degree". Nonetheless, I was pleasently as many leaders in the audience shared some of their experience with informal team leadership and how they strongly rely on it. So, even without knowing the scientific concept, leaders have been supporting shared leadership already to a much greater extend than I believed.
One contribution stood out in particular: Dr. Lohmann from allsafe JUNGFALK in Engen. Funnily enough, Engen is about 15 minutes from my University, but I had never heard of the company. This just shows you that sometimes you have to drive 600km in order to meet your next door neighbor.
Anyway, allsafe JUNGFALK, by all description, is practicing a very advanced form of shared leadership and I'll keep in touch with them and write about their methods in a later blogpost.
So a very good exchange for me in this first meeting. My thanks to all participants.
---
"Querdenker - Andersmacher": Lighthouses
Next, I visited a session were we discussed how to find "Querdenker" (people thinking outside the box) within the company, connect them and help them make active changes to improve the company. Some pretty cool ideas were exchanged and I liked the idea that employees could not nominate themselves, but had to be nominated by others.
I believe, a slightly more systematic approach, possibly by using social network analysis, to identify essental members within the organization might help to find not just "Querdenker" but also those whose networks connections would allow them to influence their immediate areas. Or, to put it into pictures: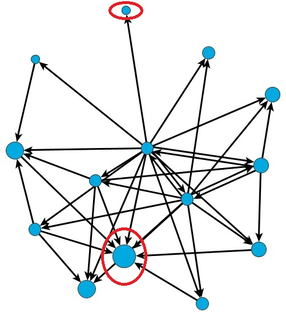 In a network like this, you would prefer to contact the person circled at the bottom, since this person has a lot of influence in this network and can affect changes more easily, while the person at the top is completely isolated. So my suggestion: Find central people in your network with this method, then find "Querdenker" and connect them in order to amplify their input.
---
"Aufbau einer Führungskräfteplattform": Knowledge Repository for Leaders
This session covered a question that many companies are dealing with: How to build a central repository of knowledge; how to get employees to use it to find information; and how to get employees to actively contribute to his knowledge database.
Besides the IT challenges associated with this, there are also many motivational problems that need to be solved. Firstly from an IT perspective tools like MediaWiki combined with a forum for open exchange are probably the best thing to use, since those are highly succesful and the software should be open source and therefore easily obtained. More difficult, of course, is it to incorporate that into the IT infrastructure of a company.
But this can be solved. From my educational background in psychology though, I consider the human situation as much more challenging. It's easy to get employees and leaders to acknowledge a good source of information and to encourage them to use it, if it is well done technically. But to get employees to actively write articles there and to contribute to this source is quite another dimension. Some of the suggestions in the last blogpost on how to get employees to freely share information might actually apply here, thus some kind of prestige-reward system for employees who contribute extensively in such a system might work very well.
---
"Augenhöhe": Eye-level
After lunch, another session was about how to reduce the "distance" between leaders at different organizational levels and their employees. (see also Wikipedia for a short summary on the concept)
I think this is a great endeavor as well as a goal we should all strive towards. That being said: I don't believe that the manager of a entire plant with potentially thousands of employees several hierarchical levels beneath him/her is able to eliminate this distance. However, certain steps can be taken to reduce the distance and to make a exchange more open.
I have noted this for a blogpost during the next weeks, since this topic is very interesting indeed.
---
"Transformationsräume schaffen": Creating Transformational Rooms
With the title of this session, I presumed it would be about "theoretical" rooms or "space" in a larger context, like a organizational climate. But rather it was really about how to create rooms in which a transformative training with leaders could be achieved. While very interesting to gain a insight into the methodology of leadership training, I did feel a little out of context here.

Summary
In summary, the BarCamp offered excellent impulses, especially from the practitioners in the room. I got some ideas for my research that I want to follow up on and made great connections, which might turn out to be an opportunity for some data collection, hopefully.
So, great event and I would love to get invited again.