Normally, the lecture on Strategy and Leadership ends with a multiple-choice exam. For years I have been closely involved in designing and administering this exam, so much that I was considering this part of the lecture to be routine. Then came Covid-19.
In April, when I was making most of the decisions for the semester, there was horrible news from Italy and high uncertainty how Germany would be affected. So, putting 200 students into a room to write an exam seemed both unlikely to be allowed and morally questionable, to say the least.
Supported by the department I therefore consulted with my teaching assistants regarding alternative formats. There were significant considerations regarding their workload here. Originally, their job description involved mostly offering bi-weekly exercises on the material of the lecture and to provide some support for the exam and their weekly hours had been calculated accordingly. Now I confronted them with another option: Weekly learning diaries and quizzes, which would have involved a lot of correcting.
I have to give my assistants a lot of credit here, as they embraced the idea and immediately offered suggestions how to pull this off. Therefore, we decided to have students write up to 10 learning diaries, between 500 and 800 words each, combining a repetition of the material of each lecture with reflective thoughts on understanding and application of the learned material. The best 8 of those 10 diaries were going to count the majority of the final grade, allowing for a few missteps along the way. Second, we decided on having weekly online multiple-choice quizzes to make up a much smaller amount of the grade. It all sounded pretty good.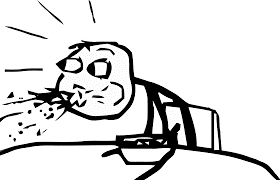 And then instead of the usual 180, 300 people signed up for the lecture.
MFW (myfacewhen)
We did not expect almost twice the usual participants and of course it overthrew of a lot of planning regarding working hours for the teaching assistants with all the correcting that was coming along with this. I'm still unsure, why we had such a run on the lecture, it might have something to do with a reduced number of seminars available overall. Maybe news also spread, that there would be no exam at the end and many students from other departments decided on joining for some extra credits.

In addition to this, I was made aware that the second round of exams from the winter term were coming due in May. Usually, these happen between semesters, but they had been moved in the middle of my semester because of Corona. I was also asked in Discord whether I could do anything about this double workload:
(In case the second exam of the winter term are due after the 25th of May, it will be very stressful with the learning diaries and the tests. This would be a double burden since the usual semester and exams would be at the same time. Couldn't we rather have an exam at the end of the semester?)
We made some changes. We reduced the number of learning diaries from 8 to 5 and kept the weekly quizzes but offered open deadlines until the end of the semester on all of these. Consequently, students could plan freely when to take the quizzes and hand in the learning diaries according to their needs. However, this posed another problem. The multiple-choice quiz was never very secure; hence it only counted a very small portion of the grade and was supposed to be taken within a fairly short time window on Fridays. With unlimited time to complete the quiz, I expected students to share the answers with each other by simple taking screenshots (I would have!). So, we no longer considered the quiz as a part of the grade, but simply a passing requirement to be completed. The learning diary now made up the entire grade and there were no freebies, all of them counted. The student who (correctly) initiated this discussion also gained some deserved fame: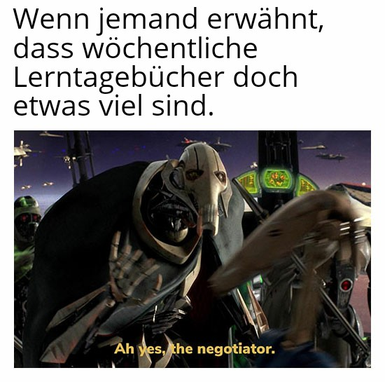 (When someone mentions that weekly learning diaries might be a little too much)
Writing this in retrospect, not all of these plans worked out as planned. We'll get into that later.
Take Aways
First, make sure to keep the TAs in the boat and make sure they don't go over their allotted hours. There is no way to compensate them for overtime and it's not fair to them and their other obligations.
Second, keep students work-load in mind. While flexible deadlines have some dangers, they are necessary, especially in these difficult times.
Third, get feedback from students regarding their workload and perceived fairness.
Fourth, maintain a focus on learning, not on testing. A quiz that does not count toward the final grade might provide better learning opportunities than a final exam and learning diaries offer better engagement with the material in many cases.