Note: This research project has been completed. However, if you are interested in shared leadership it is quite possible to continue data collection. Just contact me via the email address below.
As part of my dissertation project, Prof. Dr. Boerner and me are conducting the Shared Leadership Study in which we investigate several causes of shared leadership. On this page, I will elaborate on this project and also show some very good reasons for companies and teams to participate in it.

---
So after reading this page: Sign up for our study and learn more about shared leadership in your team!
---
Shared Leadership has been shown to be a important cause of team performance, with recent research showing very clearly that teams who practice high levels of shared leadership outperform those who do have lower levels.
But, maybe even more importantly, shared leadership can be a great help to formal leaders as well. Since the complexity of modern work environments is increasing all the time while the amount of available information sources grows accordingly, it has become unrealistic to expect a manager to have all the knowledge needed to make decisions. In fact, putting the burden of these decisions on one pair of shoulders is both ineffecient and quite unfair.
Shared leadership can help with that by involving all team members in the decision making process and getting the people with the relevant knowledge to make the right calls at the right time. This takes the burden of the formal leader and allows him/her to focus on the larger picture that the team needs to focus on.
While we know that shared leadership is beneficial for teams, we still need to learn a lot more about the enablers and causes. This the the goal of our current study.
---
We use a four step procedure to help teams develop shared leadership:
We inform about shared leadership using several formats (such as webinars and prepared information material).
We collect and analyse data regarding the current state of shared leadership in teams and provide a comprehensive and easy to use report for all participating teams.
We further provide an individual level diagnostic tool with which team leaders can engage their team members in a constructive discussion about shared leadership.
Lastly, we assist and advise regarding all further questions in order to help team leaders and their team members to develop concrete steps to foster shared leadership in teams.
For this we use a combination of reliable instruments from the management literature as well as social network analysis, which allows us to show the quality of shared leadership in each participating team, as shown in the picture below.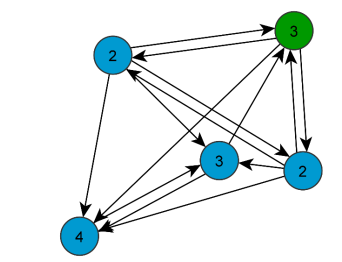 This is a network of a small team with four employees and one leader (the green dot). This graph shows us a couple of things. First, the arrows indicate that the person aimed at is considered a leader by the person sending the arrow. The number within each circle corresponds to the number of nominations each person gets. Thus, the person in the lower corner has been nominated by 4 of his/her team members, including the team leader and is the most important source of influence in this team.
This method allows us to investigate who much team members are involved in the leadership process and whether this involvement is distributed evenly.
---
In order to provide a better and more concise feedback for participants, we integrate our findings into four major areas.
Shared leadership: How is leadership distributed and how is it enacted?
Cooperation: How well do team members cooperate, share information and connect to each other?
Emotion: How strong is trust in the team, how interdependent are team members and how stressed are they?
Leadership: How do team members rate the leadership by the formal leader? Do they feel empowered to engage in shared leadership?
Taken together, these values provide a rich pool of information from which to develop teams further.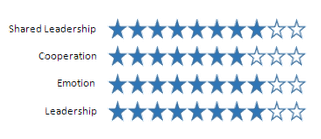 The measures on the left are all taken on a 1-7 scale, with 7 indicating very high levels. For the stars above, we adapted that to a 1-10 scale for easier use.
These measures are collected using estalibshed and testest scientific measures and thus very reliable.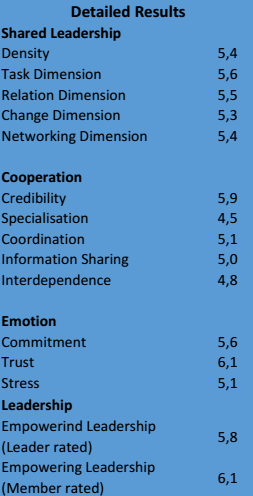 Together with detailed accounts of the different measures (mean, standard deviations), it is easy to identify potentials and problems within teams and to address them.
---
Participation is quite simple. The collection and analysis of your data is free of charge under the condition that the collected data can be used for scientific research and publications in anonymized form (so no conclusions about you, your team or your company can be drawn).
Who can participate?
All teams with more than 3 members can participate. This is a necessary restriction in order to safe-guard the privacy and confidentiality of all parctipants.
How can you participate?
If you are interested in participating, please send an email to leadershipstudies[at]uni-konstanz.de to start the process, which is actually quite simple.
How much time and effort does my team have to invest?
The study is done via an online survey, with invitations sent directly to the email addesses of the team members to make this as easy as possible. Our experience tells us that it only takes about 20 minutes to completely fill out the questionnaire for most people.
So besides a small intitial effort to sign up for the study, the cost in terms of time is very low, while your gain with this report is very high.
---
To date, we succesfully cooperate with Bosch and VW Brazil, as well as VW Argentina.